While we've been busy with Beginner Clinics, we have not forgotten our more experienced players.
We have a series of four Drill Clinics coming, and the first one is on the calendar. This is for experienced players, both intermediate and advanced. I am calling it "Basics For Intermediates" because I believe VERY STRONGLY that you MUST build your pickleball "house" on a very strong foundation. If you REALLY want to get better, then you have to be prepared to put some hard work into becoming an expert in the basics - things like dinking, stroke mechanics, shot selection, and in-game strategies have to become second nature. Once you understand these and put them into practice, you will become more consistent and successful. If you are an experienced pickleball player and you REALLY want to get better, then this clinic is for you.
I am running Drill Clinic # 1 three times next week:
Monday, June 18th at Amberwood Golf and Country Club, from 6pm to 7:30pm
Tuesday, June 19th at Trend Arlington Tennis Club, from 6pm to 7:30pm
Friday, June 22nd at Manotick Tennis Club, from 6pm to 7:30pm
I am limiting each Clinic to FOUR students, so you will be on the court and busy for the entire time. Come prepared to learn a ton and to become a better pickleball player.
The cost for this Clinic is only $45, and it will be the best $45 you ever spend on pickleball. Don't just take my word for it - have a look at some of the testimonials I have on the website at:
And, while you are there, please sign up for Drill Clinic #1 !
If you would also like to have some very personal attention to specific pickleball issues that are challenging you, I have set aside two one-hour sessions prior to each of the Clinics for private lessons. So from 4pm to 5pm, and 5pm to 6pm are available for private lessons - and again, registration is available on the website.
Thanks for your support.
Michael Gauthier
Michael Gauthier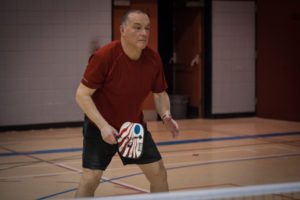 I love pickleball, and Pickleball Strokes is my on-line home. I live in Ottawa, ON and have been playing pickleball since 2012.  I am an avid instructor, referee, and 4.0 player.
I am a Certified Pickleball Teaching Professional, as designated by the International Pickleball Teaching Professional Association.
I play with a Manta Liberty Pro Team paddle, and I am proud to be a sponsored member of the Manta Pro Team. Manta World Sport is a proudly Canadian company in Kamloops, BC, that has been producing superior racquet sports equipment since 1972, including Pickleball paddles since 2011.