Around here (Ottawa, Ontario), the first of September not only means that fall is coming, it also means that we are moving back indoors for our regular pickleball fix. In just a few outings, I have quickly decided that I don't like gym floors with multiple lines, I don't like how close you are to your neighbors on the next court, and I REALLY don't like the soft, orange, Onix indoor ball. Compared to the balls we have been using outdoors all summer (Dura 40's, Onix outdoor yellows) the orange balls play like a piece of mushy foam. So much so that I have had to change my choice of paddles for indoors.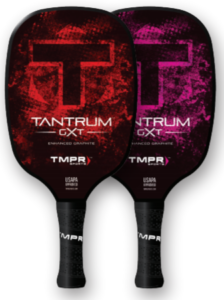 If you have ever spoken about paddles with me, you will certainly know how much I LOVE my TMPR Tantrum GXT. It is distinctly softer than anything else I have ever played with, improving my control and reset abilities dramatically. I have even gone so far as to say that EVERYONE should play with this paddle. But indoors, with the mushy ball, my GXT is TOO soft.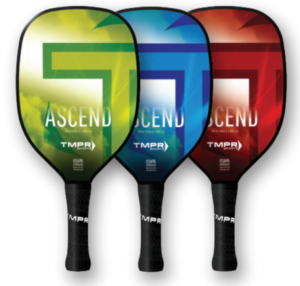 Since I haven't had the opportunity to really test out the new TMPR Ascend model, I decided to give it a try. The first noticeable feature is that the handle is 5.5" long (1/2" longer than usual). The overall length is a standard 16.25", and the shape of the face is quite oval, making the handle appear and function significantly longer. For those "two-handed" backhanders, this will be a delight to use. The aerodynamic shape lets the paddle behave much like a tennis or racquetball racket, making the transition to pickleball a bit easier for these players.
On the court, I truly enjoyed the head-heavy balance of the paddle, and the sweet spot was very easy to find and hit consistently. The surface is noticeably harder than the GXT, but with the softer indoor balls the overall effect was almost identical to the GXT outdoors. In other words, the TMPR Ascend makes my dinking (mostly) better, it keeps my hard hit balls (usually) ON the court, and I am (often) aggressively defending hard-hit volleys. Looks like I have a new best friend.
If you are in the Ottawa area, I carry a full set of TMPR demos with me most of the time - so feel free to ask to try one. If you are already sold on one, then pick one up right here on my website.
Michael Gauthier
I love pickleball, and Pickleball Strokes is my on-line home. I live in Ottawa, ON and have been playing pickleball since 2012.  I am an avid instructor, referee, and 4.5 player.
I am a Certified Pickleball Teaching Professional, as designated by the International Pickleball Teaching Professional Association.
I play with a TMPR Tantrum GXT paddle and I am proud to be a sponsored member of the TMPR Sports Pro team.