I have always used a fairly hard and heavy paddle, but I thought that I had overcome the obvious challenges with control and that I had actually mastered the soft game fairly well. Some bad experiences with the Dura 40 outdoor ball made me rethink my position, so I thought a new paddle might be appropriate.
My call went to Manta World Sport in British Columbia (full disclosure - I am sponsored member of the Manta Pro Team), and I decided to take the new long, thin Cobra 2G for a spin. To say I was pleasantly surprised is an understatement:
at 7.8 ounces, the paddle is a bit heavier than normal (but significantly lighter than my previous weapon); this weight still puts some good power on groundstrokes and overhead shots
the extended length (16 1/2 inches) is a full 1 1/4 inches longer than my previous paddle, and that difference is easily noticeable in shots that I am now reaching
the sweet spot is large and easy to find, and the ball pops off of it
the skin is fiberglass, and the core is polymer honeycomb, giving significantly improved control
I also noticed that control is much better on those "unintentional" shots that you are lucky to get a paddle on - they no longer automatically fly off the court
the paddle is also much more forgiving - if you don't stroke the ball perfectly, it still has a good chance of staying on the court
the paddle feels good to hold - nicely balanced and comfortable
the handle length is a full 5", so the paddle does not have a "stubby" feel
this paddle is exceptionally quiet, if that is a concern to either you or your neighbors
Bottom line - this is a well made, very easy to love paddle. It is now my new weapon of choice.
If you are in the Ottawa, ON area, I have a demo of this paddle available and I would be happy to let you use it.
Michael Gauthier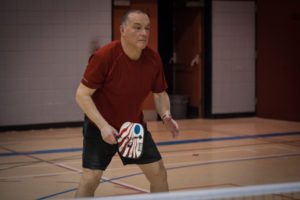 I love pickleball, and Pickleball Strokes is my on-line home. I live in Ottawa, ON and have been playing pickleball since 2012.  I am an avid instructor, referee, and 4.0 player.
I am a Certified Pickleball Teaching Professional, as designated by the International Pickleball Teaching Professional Association.
I play with a Manta Liberty Pro Team paddle, and I am proud to be a sponsored member of the Manta Pro Team. Manta World Sport is a proudly Canadian company in Kamloops, BC, that has been producing superior racquet sports equipment since 1972, including Pickleball paddles since 2011.